I love cooking!!! (except washing the dishes) It's like my second therapy outlet (ofcourse first one is SHOPPING! Who doesn't love to shop!!!????). So this weekend, I made spaghetti Alfredo with garlic bread. I've decided to do a healthier version of Alfredo sauce and still turned out so good… in addition, I made my very own peach ice tea, perfect for summer days!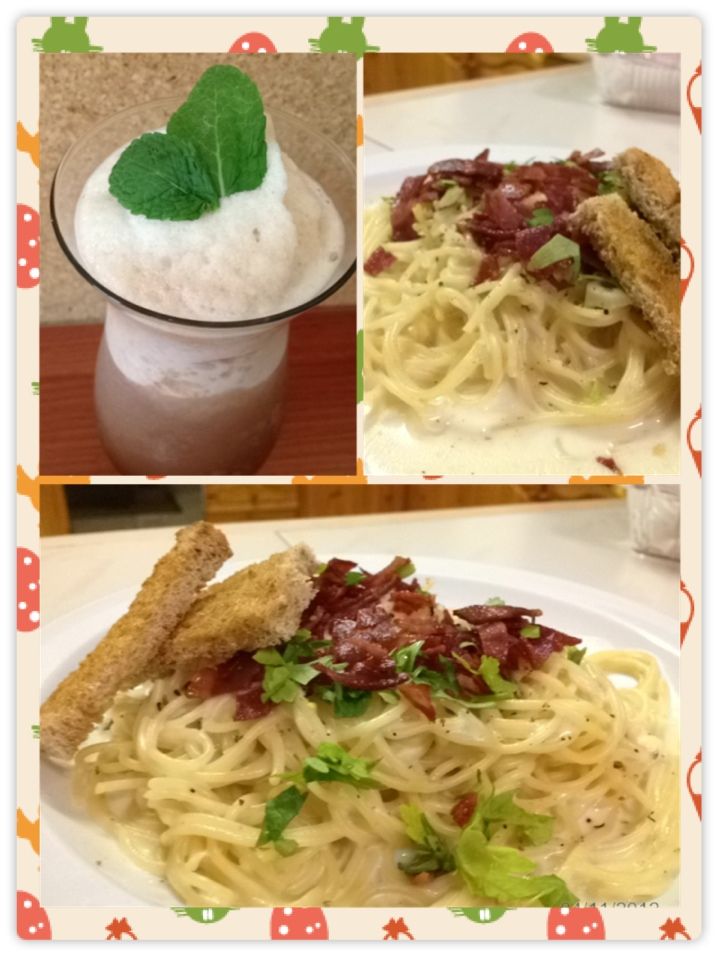 Spaghetti Alfredo
Ingredients
2 tablespoon of "I cant believe it's not butter"
2 tablespoon of flour
1 (8 ounce) package cream cheese (light)
2 cups low fat milk or skimmed milk
2 slice of low fat cheese or 1/4 cup of Parmesan cheese
1 chicken bouillon cube
2 teaspoons garlic powder
salt and pepper to taste
Oscar Mayer Turkey Bacon
Pasta (spaghetti, penne)
1/4 cup Parsley
Directions
1.Cook pasta according to package directions. Drain well; keep warm.
2.Cook bacon in oven until crisp. Once cooked. Crumble the bacon or cut in small pieces; set aside.
2.Melt butter in a medium, non-stick saucepan over medium heat.
3.Add flour to form a roux. Mix. Add the garlic powder, salt and pepper.
4.Add cream cheese, stirring until smooth.
5.Gradually add milk, whisking to smooth out lumps.
6.Add bouillon cubes. Stir constantly. Stir in cheese. Add pepper and salt if needed
7.Remove from heat when sauce reaches desired consistency. Sauce will thicken rapidly, thin with milk if cooked too long.
8.Add pasta and 1/8 cup of parsley, tossing gently to coat. Transfer pasta mixture to a platter, sprinkle with remaining parsley and crumbled bacon. Serve immediately.
Garlic Bread
Ingredients:
1/4 cup of butter
2 teaspoon sugar
3 pieces of garlic
any bread of desire
Directions
1.Finely chop/mashed the garlic.
2.Melt the butter.
3.Combine all ingredients.
4.I used brown square bread, spread the garlic butter, cut bread into 3 pieces (to form like a bread stick)
5.Put in the oven toaster. Cook for about 5 minutes.