One day my hubby challenge me to do the molten lava cake and he even said that he doubt that I'll be able to make it since it's difficult. Oh how I love being challenge specially with cooking/baking, so I've decided to make molten cake and surprise him. as they say- "the way to a man's heart is through his stomach..."
(I have updated this post since my family requested for this cake so pictures has been updated).
Ingredients:
4 tablespoon(s) unsalted butter, plus more for ramekins
1/3 cup(s) confectioners' sugar
8 ounce(s)-220gms semisweet chocolate or bittersweet chocolate, broken into pieces (I prefer Lindt 75%cocoa)
3 large eggs
1/3 cup tablespoon(s) all-purpose flour (sifted)
pinch of salt
cocoa butter for ramekins
Garnish: Powder sugar, slice of strawberry, a small scoop of ice cream of your choice, mint leaves
1.Preheat oven to 200 degrees C (400 degrees F).
2.Butter the ramekins, then dust with cocoa powder. Set aside.
3.In a double boiler, on low heat, melt the butter and chocolate. Stirring occasionally.
4.Once the chocolate and butter are all melted, turn off the heat and set aside.
5.In a small bowl, whisk together egg, sugar and salt. Gradually add chocolate mixture; whisk to combine.
6.Add flour, and whisk just until combined (do not overmix). Pour batter into prepared ramekins. Fill them about 1/2 to 2/3 way.
7.Place the ramekins onto a baking sheet.
8.Bake for exactly 11 minutes. (until a toothpick inserted 1/2 inch from edge of ramekins comes out clean, and a toothpick inserted in center comes out wet,(do not overbake)).
9.Cool for about 5-10 minutes on a wire rack. Run a knife around inside of ramekins to loosen. Invert cakes onto serving plates. Dust with powder sugar; with a slice of strawberry, a small scoop of ice cream of your choice, mint leaves. Serve immediately.
10.Bon appétit!
And the outcome, (drumroll), a nice perfect molten lava cake! My hubby was so surprise! Verdict A++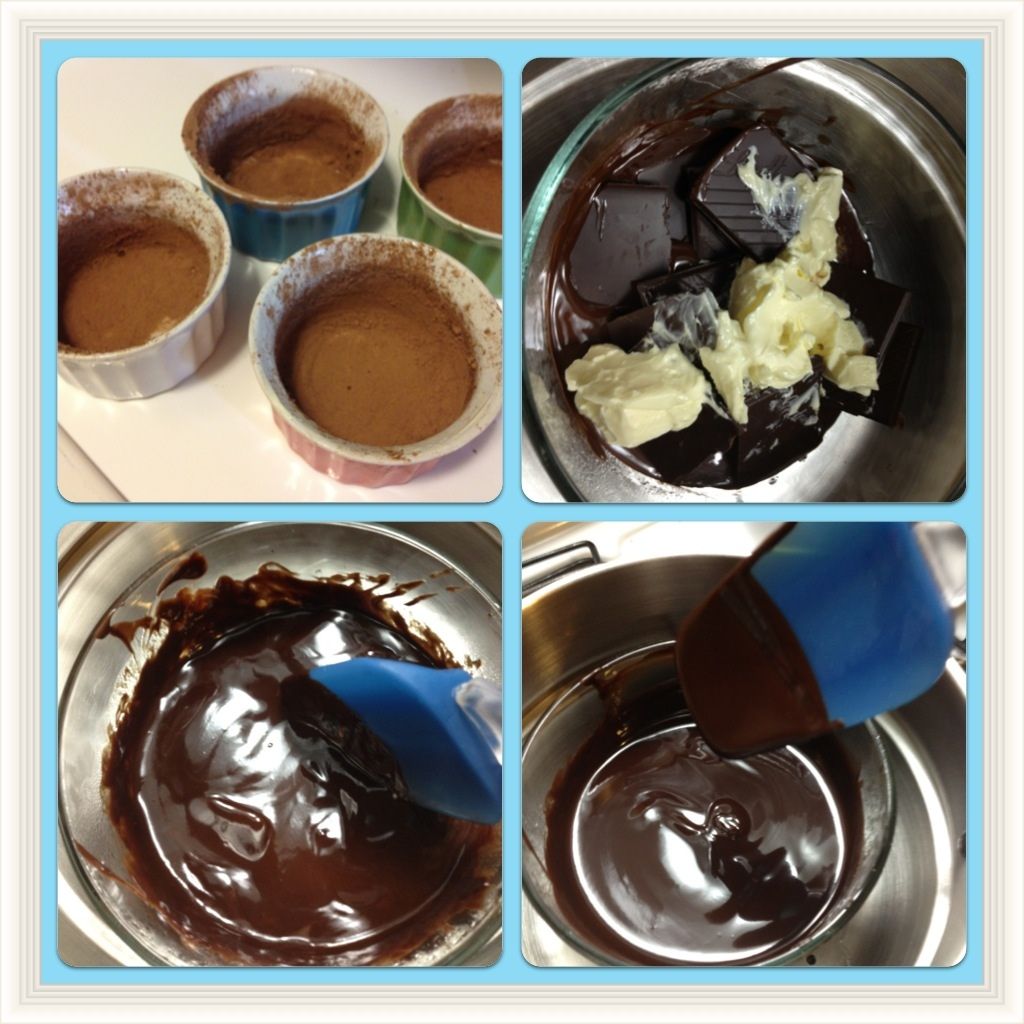 Update: July 2012: This time I've done it for my family during my recent visit to them.
May 2012: This was done my original post when I surprise my hubby