I was looking forward to receive my Aug GlossyBox, just in reparation of my last month meh box. Well without further ado, here's what I got: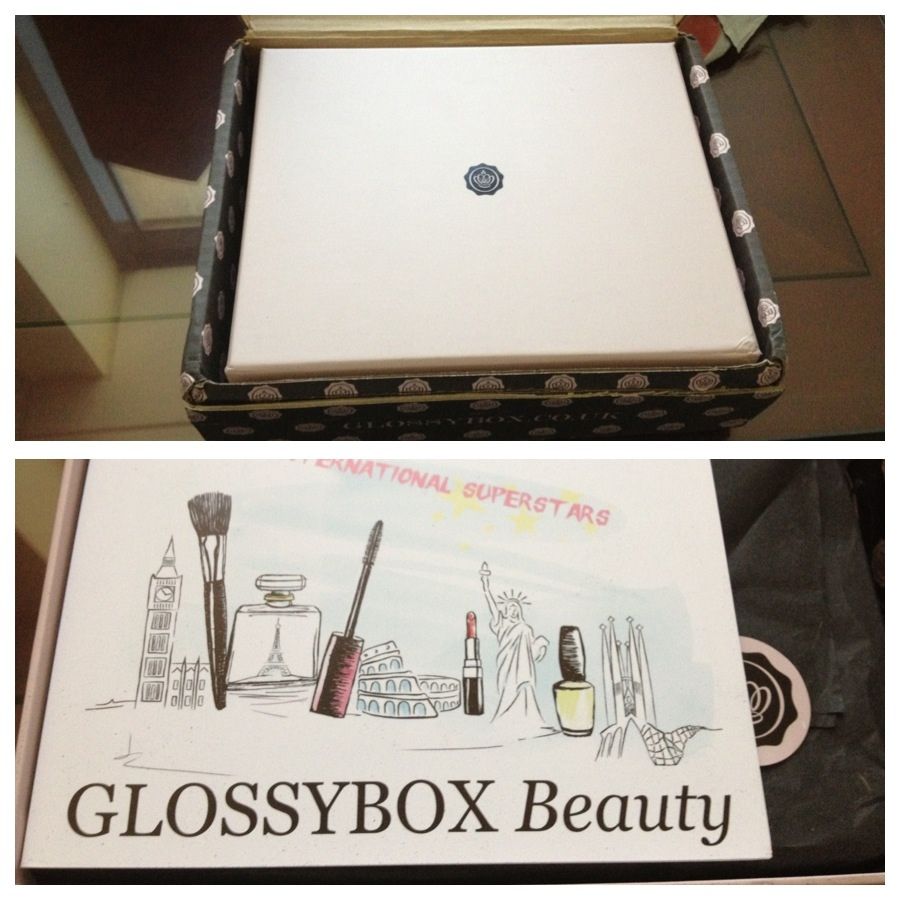 For this month's Glossy Box themed is International Superstar and features a selection of products that are well known in different countries.
So what I have received:
Alessandro Pro White Nail Polish (from Germany)- optically brightening effect nail polish with anti-yellowing formula for radiant white and gleaming nails. I'm not sure about the size, its not indicated in the bottle. I'm very interested in trying this product, since sometimes I also have a problem with yellowish nails.
All For Eve for The Eve Foundation, Eve's Balm (no country origin indicated)-a balm to nourish dry skin. Perfect for me, can't wait to try. I got it in 25ml size.
DHC Deep Cleansing Oil (from Japan) - revolutionary water-soluble cleanser. I got it in 30ml size. I'm a bit hesitant to try this product since I'm avoiding putting some oils in my face.
Lipcote (from UK)- original lipstick sealer and secret of long lasting, feather fade and water resistant lipstick. I got it in 7ml size. Honestly, this is the first time that I heard about this kind of product. Initial impression based on the description in the card, its a cool idea, but then when I smelled the product, its horrible its smell like a nail polish (by the way same texture also) I cannot imagine putting this on my lips.
Glossybox Lipstick in glossy pink color (from Glossybox UK) -professional beauty lipstick for soft and glamarous lips with a luminous, long lasting color. I got it in 4g size. I like the color but need to put it in test.
Vera Valenti L'ombre à Paupière Margarita (from Spain)- an eyeshadow palette offering selection of ten different colors. I received the neutral shade selection. I can't believe that this is well known in Spain coz it really looks cheap. The pigmentation is very bad. I guess I will be more happy and prefer to receive Wet n Wild palettes :).
NOTE: I will try and give you my final thoughts about the products soon.
Final Thoughts:
I really enjoyed my box for this month, but sadly, I had cancelled my account with them. From the start all I want to do was to give it a try. And I just want to experience receiving monthly beauty subscription, but I know that sooner or later I will cancel my subscription. Factors I have considered are:
Extra payment that I'm paying for shipping charges from LON to BAH, which I find not very practical;
I don't like receiving sample perfumes or beauty creams I would rather received sample make-ups. Coz' for sample perfume, I can also get it here from my local Sephora, Paris gallery, or Debenhams. And for the creams, since I have sensitive and prone acne type skin I tend to stick with my current facial routine;
And like what I have said before, I would rather save the same amount of money that I'm paying every month and buy the items that I like. And you know how it works when you buy something, like in Sephora or Debenhams you will be probably receiving some samples too ;).
But if you have extra money to spend then why not?!