This month I ordered my first Glossybox UK. I initially subscribed with Birchbox but I lost my patience in waiting. So I've decided to try Glossybox (beauty monthly subscription with a fee of £12.95 plus shipping charges of £2.95). Since I don't live in UK or in US, I am using a mail forwarding service, which is commonly known as virtual post office box services. I'm currently registered with
Aramex Shop & Ship (SnS)
. Their offering three personalized lifetime accounts in the US, UK and China for only a one-time membership payment fee of $45.
So how does it work? Let me explain to you before I jump to my topic so in this way I can justify my conclusion later. You'll be given personal account numbers, aka your new 'physical' delivery addresses in the US, UK and China. Once you ordered and items are shipped to your mailbox, SnS will sent you an update activity notifying you with the items received along with the charges that you need to pay. Note that you are being charge per half kilo. You have an option of paying it online or upon delivery. The packages need 5-7 business days after arriving in your US and China account and 3-4 days from your UK account to get to you (customs and clearance processes may vary from country to country).
So I placed my first order in 25th July, according to Glossybox site they will notify you once the item have been dispatched. 1st of August I still didn't received any email from Glossybox, so I emailed them just check the status of my order, no response not until 7th of August, and received this response:
"I'm happy to see that your box was signed for only 30 minutes after sending this email - I hope you enjoy your box!"
Apparently I already received a notification from SnS since 3rd August that I have received a mail from my UK mailbox, so Glossybox response didn't really help me at all.
Well, as newly member I'm not really impress with their customer service. I was expecting a quicker response.
SnS took 5 days to deliver the box to me, and delivery charges is $11/-. I was somehow excited, and hoping that I can get the same things as the other bloggers.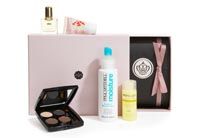 Photo credit from Glossybox site
Unboxing:
So what I have received: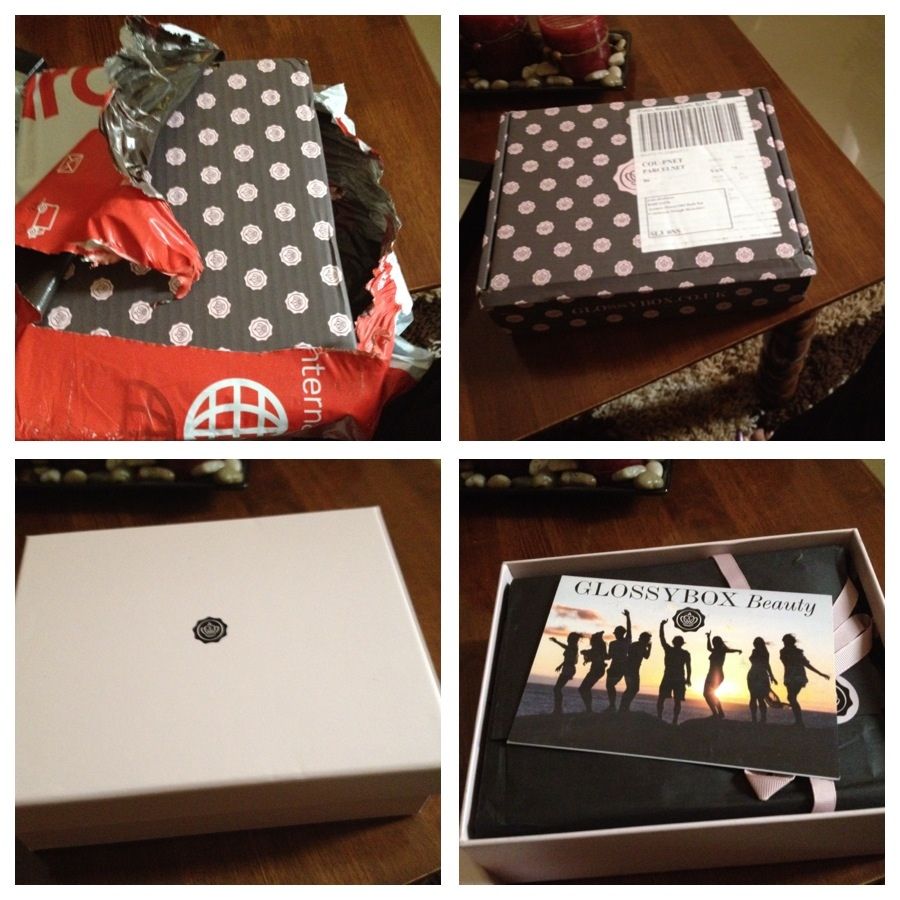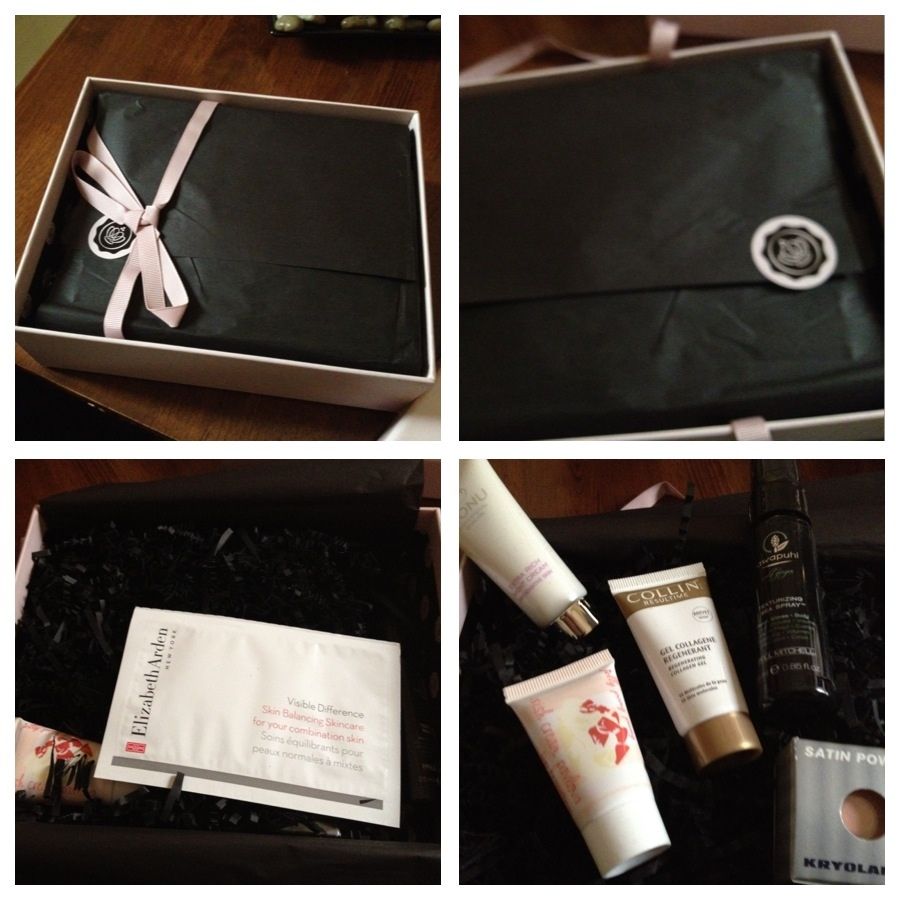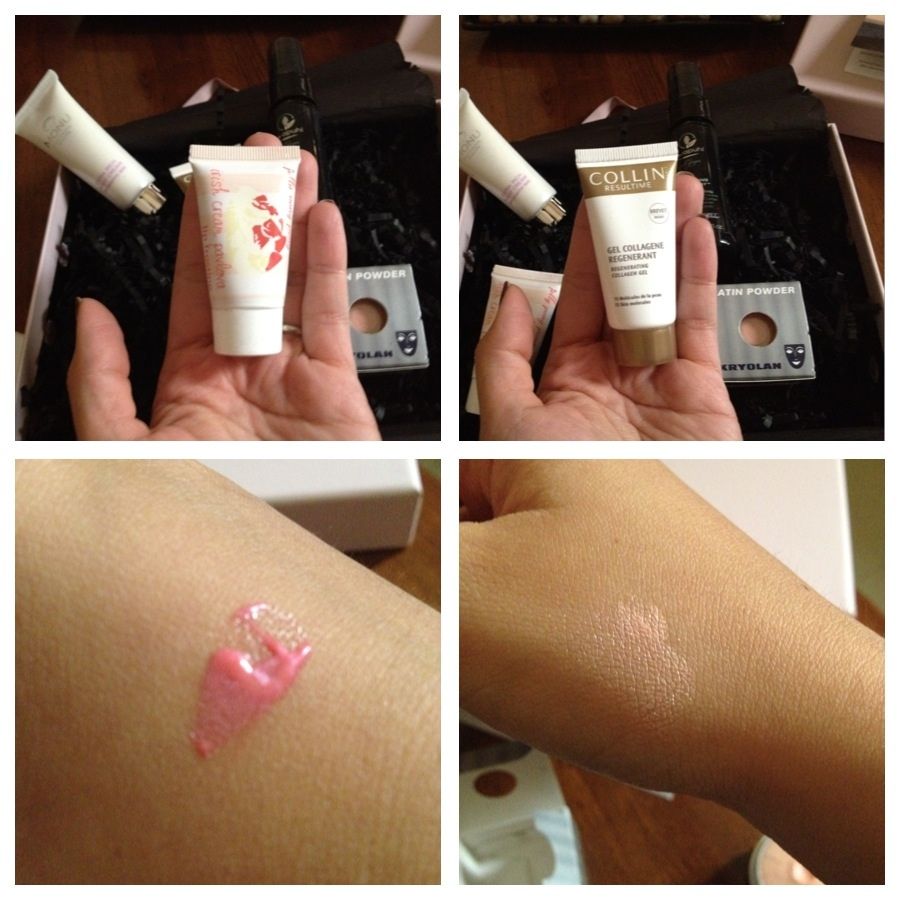 Bottom: L-R: swatch of the Poly pong pong lip frosting; swatch of the Kryolan satin powder
Unboxing:
For this month's Glossy Box themed is festival season and features a selection of products that are ideal for an instant glam for any upcoming festivals!
So what I have received:
Colin Resultime Regenerating Collagen Gel- multitasking superhero containing 15 key skin molecules. As you can see in the above picture the size is just 15ml. I put it on my hands so you can visualize the size of it.
Awapuhi Wild Ginger Texturising Sea Spray-Create a tousted beachy style any time. Well I guess this is perfect for summer season. I got it in 25ml size.
Monu Extra Rich Night Cream - A lux night cream to intensively nourish and firm whilst you sleep. I got it in 20ml size.
Jelly Pong Pong Irish Cream Pavlova Lip Frosting- A multifunctional cream gloss. Use on lips or for cheeks. Very thick consistency and smells like candy, I really love the smell. It's a bright pink tint. I got it in 15ml size.
Kryolan Satin Powder -This micro-fine powder will create extraordinary shimmer effect eye makeup. The powder is certainly very fine, buttery and smooth. I received the shade SP331, bright coral/pinkish tone. I got it in 3g size.
Out of the 5 products, I received 2 full size of Jelly Pong Pong Irish Cream and Kryolan Satin Powder . Am I happy with my first glossy box? Not really, for several reasons:
it would be nicer, if I received a personalised gift from them as a first timer subscriber. In that way subcribers would then feel that its very personalised. This is just a small way of impressing your clients and keeping your client;
I was not really happy with their customer service, as explained above;
maybe because I've checked what others have received I was hoping to received the HD Brows Eyebrow Palette instead of the Kryolan Satin Powder; and
and another factor that I'm reconsidering is the price, given that I'm paying extra because of the international shipping charges.
Well I'm still looking forward to received my next box, thereafter I will make my decision whether I should keep it or just cancel it.